Value Package:  The Wealth Builders DVD Collection
* How The National Debt & Surging Benefits Will Transform Retirement Planning
* Creating Win-Win-Win Solutions Using Real Estate-Based Asset/Liability Management Strategies
* Gold Out Of The Box
The Wealth Builders Collection consists of three unique and complementary video courses.  Each builds upon the base established in the Finding Wealth In Unexpected Places free book, but each set goes a different direction from that base, and provides quite different benefits.  This new value package is our lowest pricing yet for these courses in combination, offering a savings of 50%.
How The National Debt & Surging Benefits Will Transform Retirement Planning
Research Report With Three Stage Analysis Of The Implications For Individual Retirees, Investments & The Nation
This research report explores the far-reaching implications of how a high national debt and surging Social Security & Medicare benefits combine to create future risks and opportunities across all categories of investments which are quite different from the past, as well as the transformative impact over time on savings & benefits for individual retirees.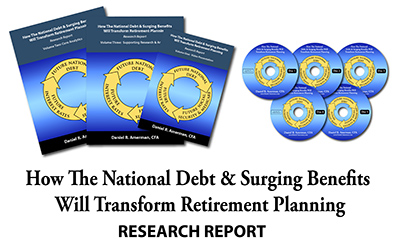 Volume One: Video Presentation (5 DVD set)
Volume Two: Core Analytics (Printed Manual, 592 pages)
Volume Three: Supporting Research & Analysis (Printed Manual, 292 pages)
Learn More About This Video Course
Creating Win-Win-Win Solutions Using Real Estate-Based Asset/Liability Management Strategies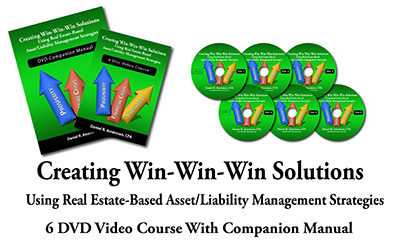 The Creating Win-Win-Win Solutions video course is a numbers and strategy-intensive instruction manual – a tool box of sorts. Step by step and number by number it shows exactly how to use asset/liability management strategies to potentially dramatically increase returns across a wide range of possible future environments.  The emphasis is on learning flexible alternative strategies to achieve outcomes which are difficult if not near impossible to achieve with conventional strategies.
1) Increase wealth creation during normal times;
2) Create increased wealth from prosperity;
3) Create wealth from financial crises;
4) Create wealth from economic stagnation; and
5) Learn robust wealth creation strategies that can handle a wide variety of potential futures.
Learn More About This Video Course
Gold Out Of The Box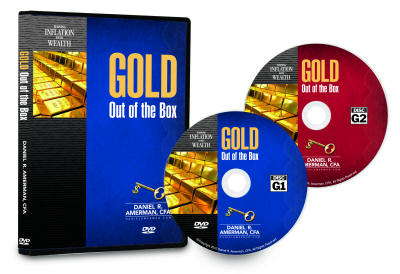 Gold Out Of The Box focuses on something quite different, which is the aggressive creation of wealth from severe monetary crisis.  This video course explores how to use the "hidden talent" of precious metals to create an asset deflation arbitrage to dramatically increase returns in crisis, instead of the usual (but far less profitable) strategy of using of precious metals as a monetary inflation hedge.  When this arbitrage is combined with an asset/liability management strategy variant, the upside potential could dwarf what can be achieved with a simple pure precious metals investment strategy.
Learn More About This Video Course
Buy The First Two Sets For Half Price & Receive Gold Out Of The Box For Free
Purchase The Wealth Builders Collection
Satisfaction guaranteed or your money back.
(30 day return period, see purchase page for more information.)
Disclaimers
Please note that the DVDs and companion books are of a strictly educational nature, rather than the rendering of professional advice. The future is uncertain, and there are no guarantees or promises of success or particular outcomes. As with any financial decisions, there is a risk that things will not work out as planned, and with hindsight, another decision would have been better.
The DVD sets and books will not include specific investment, legal or any other form of professional advice. If specific advice is needed, it should be sought from an appropriate professional. Any liability, responsibility or warranty for the specific results of the application of the general educational principles contained in the DVDs and the written materials, either directly or indirectly, are expressly disclaimed by Daniel Amerman.