Author Information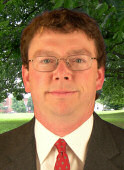 Daniel R. Amerman is a Chartered Financial Analyst, author, and speaker, with BSBA and MBA degrees in Finance, and over 30 years of professional financial experience. As an investment banking vice president in the 1980s he did groundbreaking work in the security originations and asset/liability management areas, including CMO/REMIC originations as part of portfolio restructurings for financial institutions, as well as the creation of synthetic securities for institutional clients. As an independent quantitative analyst in the 1990s and 2000s, he structured mortgage-backed bond financings and provided analytical services for real estate acquisitions by multifamily and commercial real estate owners, investment banks, and tax-exempt issuers.
Mr. Amerman is the creator of a number of DVDs and books on finance, including two books published by McGraw-Hill (and subsidiary): Mortgage Securities, and Collateralized Mortgage Obligations: Unlock The Secrets Of Mortgage Derivatives. He has been a speaker and workshop leader for sponsors including The Institute for International Research, New York University, and many banking groups.
Beginning in the early 1990s, Mr. Amerman became an outspoken critic of conventional retirement planning, arguing the accepted paradigm had multiple deep flaws that could potentially lead to a profound long-term underperformance, resulting in millions of retirement investors finding themselves with neither the retirement portfolios nor the retirement lifestyles that the traditional financial education system had led them to believe would almost assuredly be theirs.
Dissatisfied with the conventional choices for investors, Mr. Amerman has spent a number of years in researching alternatives. Drawing upon his background outside the individual investor industry, he has developed an interrelated group of non-traditional solutions – including asset/liability management strategies – for such concerns as financial crisis, inflation, inflation taxes, low economic growth rates, and pervasive low yield markets.
Professional Services
For information on asset/liability management consulting, workshops, speaking engagements, and other educational and consulting services please contact us at: