We live in a world where many interest rates are near (or below) zero, where nations seem impossibly far in debt, and where pervasive government interventions create sky-high stock and bond prices that seem disconnected from the underlying troubled economies and global risks.
From the perspective of the traditional financial education of previous decades - this is not the way the world is supposed to work. Yet, decisions must still be made when it comes to savings and retirement investing, as well as pursuing other long term financial goals.

Using the tools of financial analysis, Chartered Financial Analyst Daniel Amerman has created a series of financial education tutorials that deliver the needed knowledge for making better decisions in our current financial and economic environment.

Topics covered include:
1. Financial analysis of the conflict of interest between a government trying to hold down interest costs and savers who need higher interest rates to build wealth, and why a $20 trillion national debt may reduce retirement account earnings and retiree standards of living for decades. (Watch or read)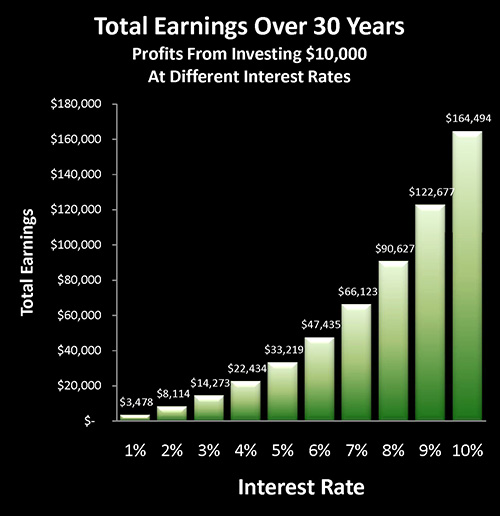 2. Four part financial analysis of how to make optimal Social Security decisions that take into account not only 1) the government schedules; but also 2) inflation; 3) the interrelationship with Medicare premiums; and 4) what happens to benefits when the Trust Funds are depleted. (Read)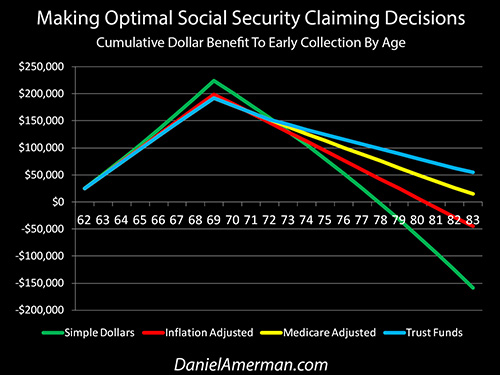 3. As explored in this analysis, the quick doubling of the national debt between 2007 and 2014 removed 26 years of safety margin for the Social Security and Medicare programs. If the debt had not doubled, then every dollar of Social Security and Medicare payments could have been paid until 2043, and the nation still would have been in better financial shape for the entire time than it is today. (Read)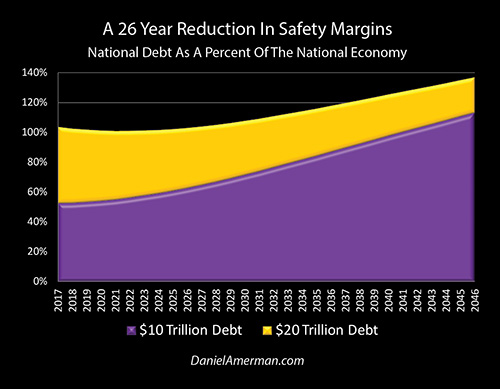 4. Financial analysis of how even very low rates of inflation create hidden taxes that can effectively consume all real earnings for precious metals, stock and bond investors - but in a form that never appears on a tax return, and is not understood by the general public. (Watch or read)
5. The four historical methods that governments use to reduce outsized national debts, and how they can all change each of our lives - while turning upside down many of the usual assumptions about retirement investments and long term financial planning. (Read)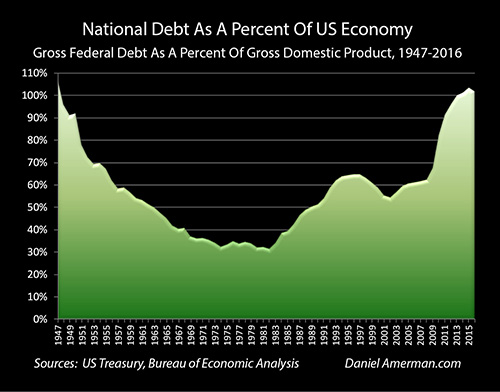 6. How the new financial rescue method of "bail-ins" which has been adopted in the 2010s by the G-20 nations (including the United States) thoroughly changes the rules and risks for savers and investors, with particular concerns for retirees relying on pensions as well as retirement investors. (Watch or read)
7. Gold and housing are each tangible assets that move in quite different cycles. By analyzing the long term relationship between these two assets, can we gain insights into relative value & risks? (Read)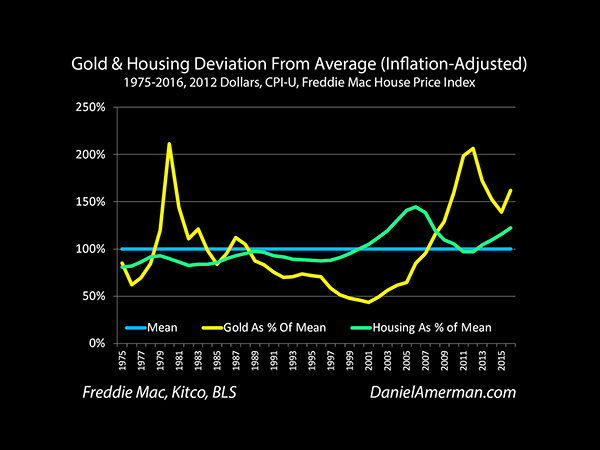 8. To understand where stocks can go in the future, it helps to better understand how stocks really worked in the past. The possibility of Dow 36,000 may sound alluring for investors, but that isn't necessarily the case, as we explore in this historical analysis of how 70% of stock investor wealth was annihilated - without most investors ever realizing what had happened to them. (Read)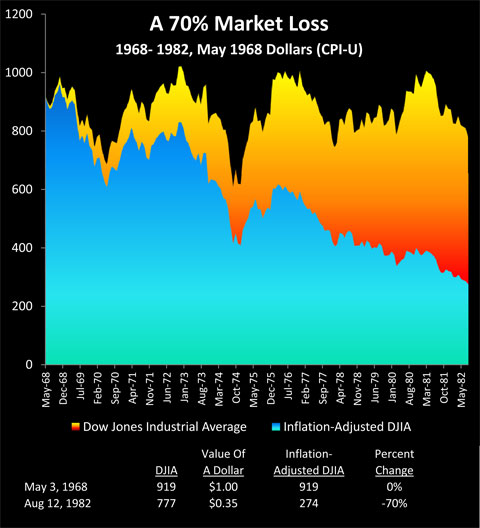 9. We are told that California's biggest pension fund is underfunded by $139 billion - but could it be much worse? As explored in this analysis, Federal Reserve policies may create pension shortfalls for states, cities and school districts around the country that could be 4X to 7X worse than the public is currently being told. (Read)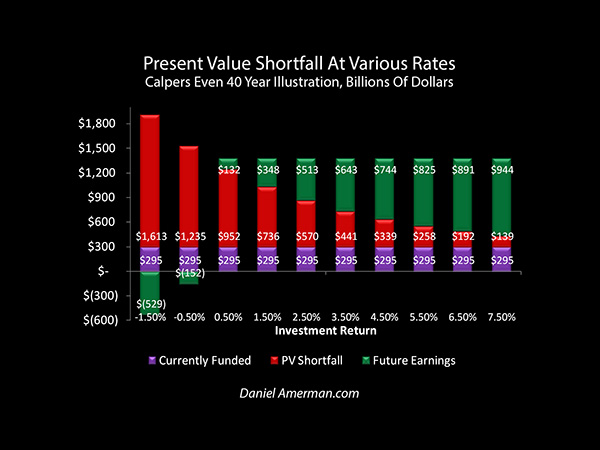 Other Recent Articles & Videos
Ongoing articles and commentary about current financial developments are sent directly to subscribers (subscription is free, and is included with the free book).  A sampling of some recent articles can be found below.
The True Cost Of The National Debt For Retirees - 26 Years Of Lost Safety For Social Security & Medicare
How Planned Fed Rate Increases Impact The National Debt & Deficits
Is Gold "Perfect Money" - Or An Investment Driven By Supply & Demand? (Stage Three Analysis)
Gold & Inflation (Stage Two Analysis)
The Lessons From Puerto Rico's $73 Billion Bankruptcy
Gold, Inflation & The Missing 27% (Stage One Analysis)
Watch Video or Read Transcript
Two Sets Of Books & The $5 Trillion Perfect Crime
How The National Debt & Surging Benefits Will Transform Retirement Planning
The Imminent Multi-Trillion Dollar Surge In Social Security & Medicare Costs
Trump & The Fed
Beginning Stages Of A Public Pension Crisis (Financial Sense Newshour Interview)
Pension Shortfalls Could Be 4X To 7X Greater Than Reported
Gold To Housing Ratio Analysis Update
Italian Banks & Moving The Risk During Crisis
Brexit & The Precipice
A Video Guide To Bail-Ins
Watch Videos or Read Transcript
A Visual Look At The Fed Decision From A Retirement Investor's Perspective
Watch Video or Read Transcript
Will Capital Controls Return?
Margin Rules Changes Force New Private Funding Of Public Debt
Does The National Debt Supercycle Override The Normal Interest Rate Cycle?
How Do The Social Security Trust Funds Really Work & Can We Rely On Them?
The National Debt Is The Security For Social Security - And Why That Matters
US Regulators Mandate Next Stage Of Textbook Financial Repression
What Two Risks From Rising Interest-Rates Could Each Trigger A New Global Crisis?
The Eight Energy Systems Driving The Stock Market Rout
Game Theory & Retirement Choices - Should You Get Yours, Before Everyone Else Tries To Get Theirs?
Are Roth IRA Owners Likely To Be Subject To Double Taxation?
Is Simple Incompetence The Real Source Of Crises?
A Financial "Perfect Storm" May Be Brewing
Mice, Mazes & Investor Perception Management
The Existential Danger To The Euro Is Elections
Will Ever More Boomers Selling Retirement Assets Change Investment Prices For Decades?
Did The Fed Just Admit to Deep Uncertainty About Our Financial Security In Retirement?
Will Your Retirement Accounts Survive The Coming Tax Code "Revolution"?
Does Economic Stagnation Create Dangerous Financial Bubbles?
Is There A New Global Consensus About Cheating Investors To Reboot Employment?
Why Is The Federal Deficit Really Falling?
Deadly Deflation Myths