Is There A "Back Door" Method For The Government To Pay Down The Federal Debt Using Private Savings?
By Daniel R. Amerman, CFA
The United States government is currently about $17.5 trillion in debt. To place this number in perspective:  if we assume that only the above-poverty line households will be making net contributions towards paying this enormous debt, this means that the national debt equals about $180,000 for each "able to pay" household in the US.
With traditional financial planning, the most common way of dealing with this problem – is to completely ignore its existence. Rather than try to incorporate the effects of this massive debt that could transform interest rates, economic growth and rates of return for decades – most investment plans for individuals simply pretend it doesn't exist.
However, if one is to make reality-based financial decisions over the long-term, then there is no substitute for understanding just how nations actually deal with massive debts in the real world, whether in the United States or in other Western nations with extraordinary levels of debt.
In practice, there are four primary methods which nations use to pay down huge government debts when they have borrowed in their own currency:
Can A Nation $17 Trillion In Debt Afford Higher Interest Rates & Will This Change Our Retirements?
The United States federal government currently has about $17.5 trillion in recognized debt outstanding. What this means is that if the interest rate on that debt were to rise by even 1%, the annual federal deficit rises by $175 billion. A 2% increase in interest rate levels would increase the federal deficit by $350 billion, and if rates were 5% higher, the annual federal deficit rises by $875 billion.
Clearly, the federal government cannot afford substantially higher interest rates.
At the very same time, because of the current extremely low interest rate environment, tens of millions of retirees and long term investors have seen their returns slashed, with potential reductions in their standards of living as well.
Could it be there is a fundamental clash between the financial interests of the federal government and the financial well-being of long term retirement investors?
Do Your Retirement Plans Rely Upon The Average Person Becoming Wealthier Than The Average Person?
Is it just bad luck that your retirement investments are currently worth much less than what you had been told to expect? Something nobody could have predicted? Or were there fundamental problems all along, that were ignored by many experts?
In this article we will take an unconventional perspective on the conventional financial planning model. We will explore why the advice you were getting was fatally flawed, and why what was bad advice in the past is still bad advice today. And once we understand these flaws, then we can start to do what really matters, which is taking effective action to protect ourselves.
Did An Obscure IMF Document Start A Global Bail-In Revolution?
When revolutions start, it's not uncommon for almost nobody to notice. It may take years or even decades before historians can look back, point a finger and say "that's where it really began."
An obscure International Monetary Fund "Staff Discussion Note" may have already started a "Bail-In" financial revolution that could transform the global investment world.
How Do Banks Use Low Interest Rates To Take Billions From Savers & Investors?
For over six years now, one of the greatest redistributions of wealth in the financial history of mankind has been in process.
Vast sums of wealth are being redistributed away from average savers and investors, and are flowing into banks and other financial institutions around the world.
Unfortunately, however, the normal financial education even for a reasonably well-read individual investor does not include how this works. It has instead traditionally been more the province of professionals.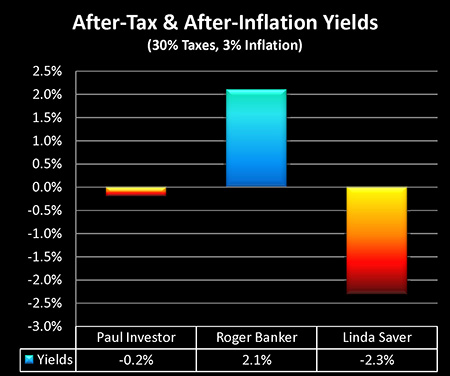 Using a simple to follow, round numbers illustration, this analysis will demonstrate exactly how this hidden redistribution has been working in past years – and how it may continue to work in the future.
Is "Mainstream" vs "Doom & Gloom" A False Dichotomy – And Could Our Financial Future Be Neither?
Perhaps the single greatest danger facing investors over the long term is to be investing for the wrong paradigm. That may sound a little theoretical, but we have a very clear and quite dangerous real-world example going on in front of us right now, which is the false dichotomy between the "Mainstream" and the "Gloom & Doomers".
The way it is too-often presented is that most people in the investment community fall into one of two groups. There is group (A), for those who are for the most part secure in the comfortable Mainstream. They understand that the financial world has some real issues and that there may be some bumps in the road, but believe that investments over the long-term future will perform pretty much the way they did in the latter half of the 20th century. And because there is a high degree of confidence among the mainstream that this will be the case, the assertion is that people can safely invest their life savings based on this assumption.
For those who disagree with this, the conventional narrative automatically moves them all the way over to group (B), the "Gloom & Doom" camp. This group is typically presented as being comprised of marginalized, eternal pessimists who are always convinced an economic doomsday is nigh.
So, as the narrative goes, either you (A) buy into the status quo, or (B) you reject it, and prepare for the inevitable collapse of the status quo.
As with all false dichotomies – which are incidentally a quite effective way to control the perceptions and thus the behavior of tens of millions of people – there is an elementary error in logic in assuming it must be either (A) or (B).
What if the current economic and investment reality aligns with neither (A) the continuation of the status quo from the long-gone latter half of the 20th century, nor (B) the collapse of the status quo, but instead (C), the ongoing transition to a new status quo for the first half of the 21st century, which is that of a dysfunctional economy that is increasingly dominated by governmental interventions, with an ever-smaller share of that economy coming from free enterprise and the private sector?
Other Recent Articles
Ongoing articles and commentary about current financial developments are sent directly to subscribers (subscription is free, and is included with the free book).  A sampling of some recent articles can be found below.
Does Economic Stagnation Create Dangerous Financial Bubbles?
Is There A New Global Consensus About Cheating Investors To Reboot Employment?
Apple Pie, Economic Growth & Fatal Stock Market Flaws
Euroskeptic Victories Raise Global Risk Of Return To 2012 Crisis
How Do Banks Use Low Interest Rates To Take Billions From Savers & Investors?
Can A Nation $17 Trillion In Debt Afford Higher Interest Rates & Will This Change Our Retirements?
Why Is The Federal Deficit Really Falling?
How Social Security Trust Funds Will Change Private Retirement Income
Deadly Deflation Myths
Six Reasons Why The Government Will Create Inflation
Taper & Quantitative Easing Reality Check
How Financial Reality Is Hidden By Commonly Used Theory & Jargon