As explored in this analysis, the fundamentals governing investment valuations have changed in the last 20 years. Using real estate as an example, we have seen increases in prices that dwarf historical averages - even in inflation-adjusted terms. Yet, the losses can be much greater as well, as can be seen in the graph below.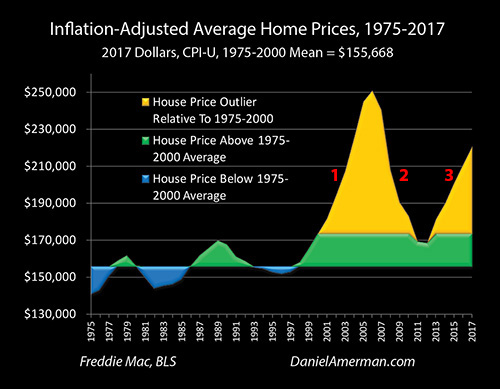 The five graphs use the tools of financial analysis to explore in detail an aspect of investment valuation that is counter-intuitive for most people but yet is likely to be essential for investors in the modern era: how what might seem to be bad news can in a logical and rational process create new levels of investor profits that may substantially exceed historical averages. These new relationships have changed not only real estate investment, but have also changed investment performance for stocks, bonds and precious metals.
When we understand why the recent past has been so different from long term averages, then we can also understand why some of the largest profits and losses in history may still be ahead of us - but what will govern those profits and losses are factors that few homeowners and investors are taking into account today.
Other Analysis Series
Other Popular Analyses
2. Would you have appreciated a single number that could have given you a clear and unmistakable warning before the tech stock bubble collapsed? How about an unequivocal mathematical warning in 2006 that major financial trouble was on the way, well before the problems of 2007 and 2008?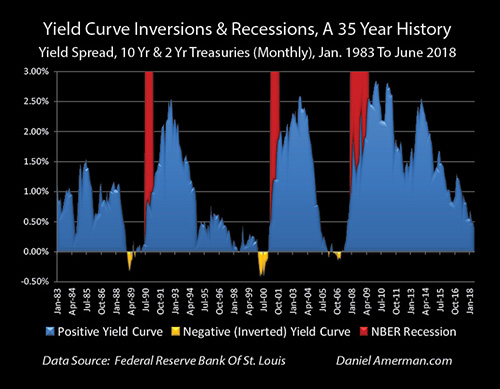 These warnings did exist and they can be seen in the gold areas of the graph above. They are called "yield curve inversions", and are quite uncommon, having occurred only three times in the last 35 years. The red areas show the three recessions of the last 35 years - and as can be readily seen, each yield curve inversion has been relatively quickly followed by a recession.
After languishing in obscurity for many years, "yield curve inversions" are back in the news again, because we just may be nearing another inversion.
In this nine step analysis, we will review what yield curve inversions are, consider the potential for Fed rate increases leading to another inversion, explore the fundamentals of why inversions can be such an accurate early indicator of coming recessions, and look at the powerful information value for investors and investments.
3. Financial analysis of the conflict of interest between a government trying to hold down interest costs and savers who need higher interest rates to build wealth, and why a $20 trillion national debt may reduce retirement account earnings and retiree standards of living for decades. (Watch or read)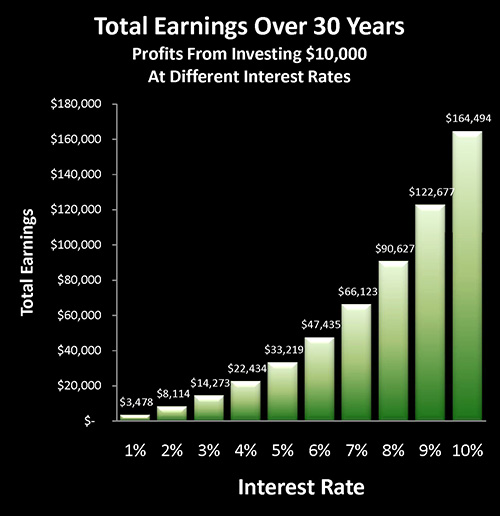 4. Four part financial analysis of how to make optimal Social Security decisions that take into account not only 1) the government schedules; but also 2) inflation; 3) the interrelationship with Medicare premiums; and 4) what happens to benefits when the Trust Funds are depleted. (Read)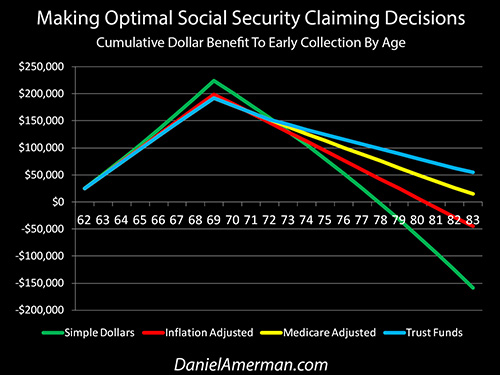 5. The U.S. national debt is likely to change our daily lives in multiple ways over the coming decades, some of which are little understood by savers and investors. As shown in the first row of analyses in the matrix which is linked here, heavily indebted nations have major challenges when it comes to interest rates, inflation, financial stability and the ability to make Social Security and Medicare payments in full. As is examined in the second row of analyses, each of those national challenges can directly translate to life-changing personal challenges as well.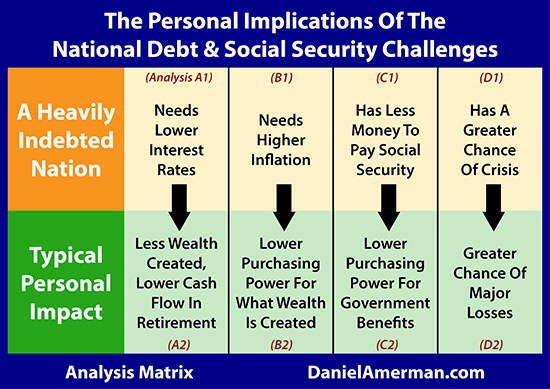 6. As explored in this analysis, the quick doubling of the national debt between 2007 and 2014 removed 26 years of safety margin for the Social Security and Medicare programs. If the debt had not doubled, then every dollar of Social Security and Medicare payments could have been paid until 2043, and the nation still would have been in better financial shape for the entire time than it is today. (Read)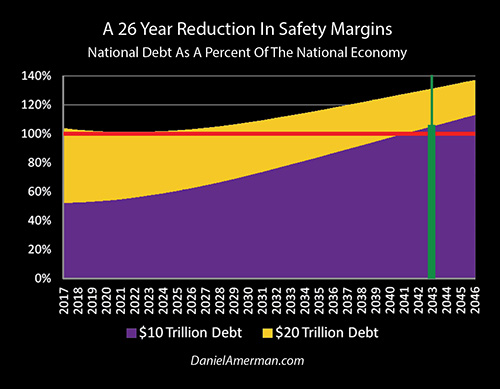 7. The four historical methods that governments use to reduce outsized national debts, and how they can all change each of our lives - while turning upside down many of the usual assumptions about retirement investments and long term financial planning. (Read)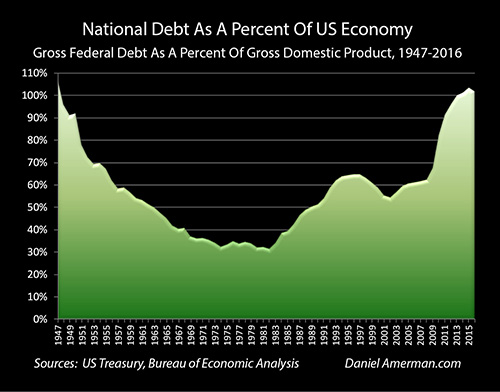 8. How the new financial rescue method of "bail-ins" which has been adopted in the 2010s by the G-20 nations (including the United States) thoroughly changes the rules and risks for savers and investors, with particular concerns for retirees relying on pensions as well as retirement investors. (Watch or read)
9. Gold and housing are each tangible assets that move in quite different cycles. By analyzing the long term relationship between these two assets, can we gain insights into relative value & risks? (Read)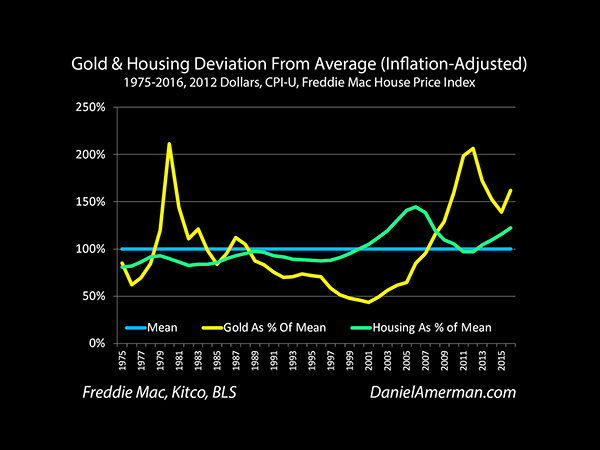 Other Recent Articles & Videos
Ongoing articles and commentary about current financial developments are sent directly to subscribers (subscription is free, and is included with the free book).  A sampling of some recent articles can be found below.
Using The Red/Black Matrix To Identify Investment Risks & Opportunities
The Plunge Protection Team, The Fed & The Investor Costs
Three Beautiful Arbitrages (Why Yield Curve Inversions Happen)
OECD Recommends Potential Major National Debt Increases: The Impact On Retirement
How "Free Money" Helped Create Sizzling Housing & REIT Gains In Recent Years
The Cycle That Has Been Saving Home Buyers $3,000 Per Year - Just Ran Out Of Fuel
Loss Of Yield Curve "Shock Absorber" Could Mean A Rough Ride Ahead For Markets & Housing
Financial Sense Podcast Interview On The Loss Of The Yield Curve "Shock Absorber"
The Sixth Graph - The Multiplication Of Wealth
Using The Five Graphs To See The 1-2-3 Cycle Of Exaggerated Profits & Losses
Five Graphs That Explain How The Fed Creates Extreme Real Estate Price Movements
Will The Federal Reserve Create Two Major Investment Arbitrage Cycles?
Is Traditional Financial Planning Blind To The New Sources Of Profits?
A Model That Better Fits The Data
A Remarkably Accurate Warning Indicator For Economic & Market Peril
Does The Containment Of Crisis Create Record Investor Wealth?
A Continuous Cycle Of Crisis & The Containment Of Crisis
Binary Risk & The Italian Tempest
Individual Financial Decisions & The Investment Implications Matrix
Increasing The National Debt By $6 Trillion In One Committee Meeting
Bubbly Assets & Bumbling Surgeons
The Interest Rates Needed To Fund A Government With A Voracious Need For Cash - Early Problems Appear
The ABCs Of Popping A Third Asset Bubble
The Wealth Machine That Rising Interest Rates Create & The Conflict With The National Debt (Part 2)
Financial Sense Podcast Interview On The Fed Increasing Interest Rates
The Potential $54 Trillion Cost Of The Fed's Planned Interest Rate Increases
Macroeconomic Model Notes & Methodology
How Inflation Reduces The Real Value Of Social Security Net Of Medicare Premiums (Part 6)
Using Personal Math Instead Of Abstract Theory To Make Better Retirement Decisions (Social Security Debate)
Medicare Premiums Are A Shared Pool - Eight Coming Changes That Will Transform Retirement (Social Security Indexing Part 5)
The Critical Impact Of Medicare Premiums On Social Security Inflation Indexing (Part 4)
Out Of Money By November 29th - Social Security Indexing Part 3
Out Of Money By December 12th - Social Security Partial Inflation Indexing Part 2
The Social Security Inflation Lag Calendar - Partial Indexing Part 1
Predicting Dow One Million - Was Warren Buffett Being Bold Or Overly Cautious?
The Profoundly Personal Impact Of The National Debt On Our Retirements
Higher Interest Rates May Force Higher Inflation Rates
The True Cost Of The National Debt For Retirees - 26 Years Of Lost Safety For Social Security & Medicare
How Planned Fed Rate Increases Impact The National Debt & Deficits
Is Gold "Perfect Money" - Or An Investment Driven By Supply & Demand? (Stage Three Analysis)
Gold & Inflation (Stage Two Analysis)
Gold, Inflation & The Missing 27% (Stage One Analysis)
Watch Video or Read Transcript
Two Sets Of Books & The $5 Trillion Perfect Crime
How The National Debt & Surging Benefits Will Transform Retirement Planning
The Imminent Multi-Trillion Dollar Surge In Social Security & Medicare Costs
Pension Shortfalls Could Be 4X To 7X Greater Than Reported
Gold To Housing Ratio Analysis Update
Does The National Debt Supercycle Override The Normal Interest Rate Cycle?
The National Debt Is The Security For Social Security - And Why That Matters
Game Theory & Retirement Choices - Should You Get Yours, Before Everyone Else Tries To Get Theirs?
Are Roth IRA Owners Likely To Be Subject To Double Taxation?